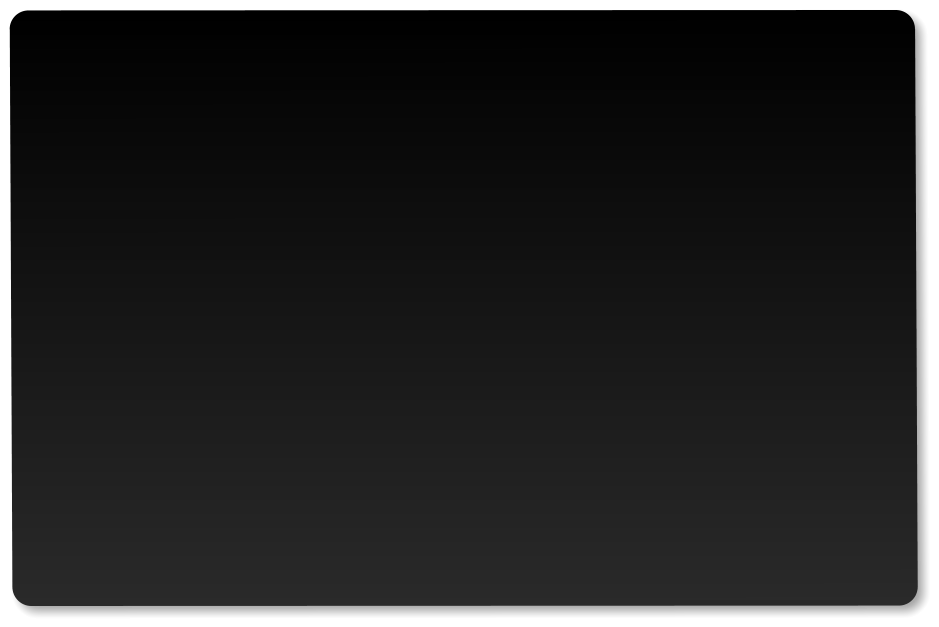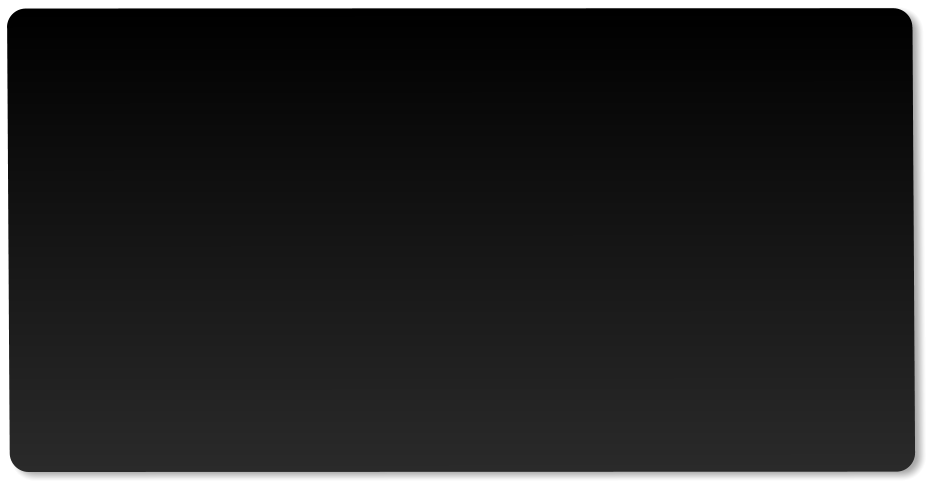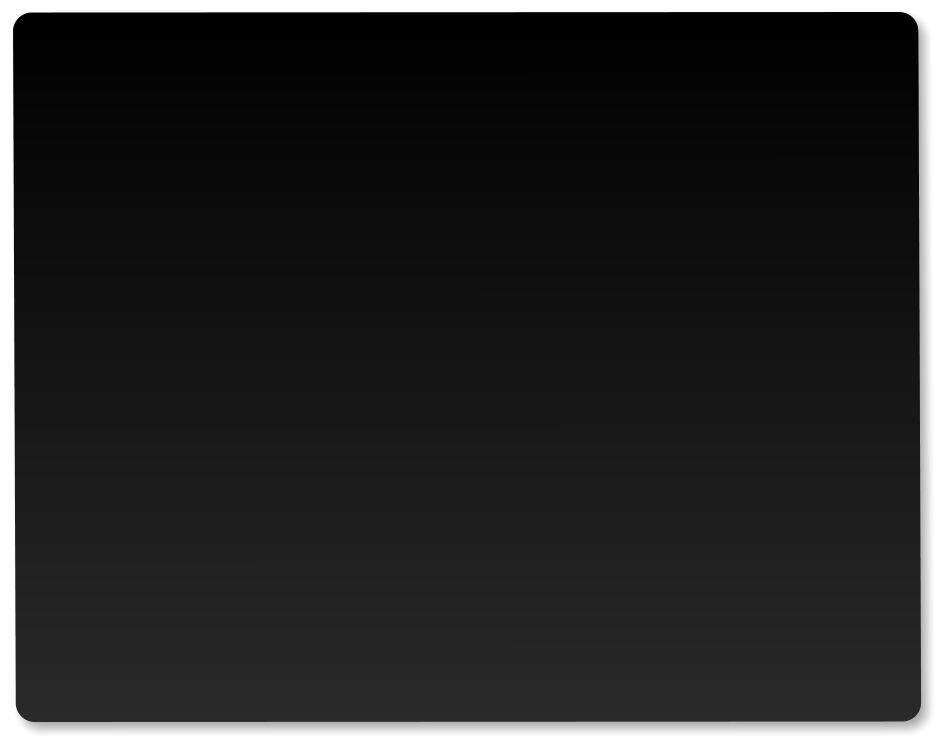 In addition to live performances, Kara teaches private fiddle lessons and is a model and writer with
published work. Her partial modeling portfolio can be found on her Instagram page: @kara.markley
Kara holds a degree in Ancient History from The Ohio State University. She is an avid student of
folklore, which greatly inspires her passion for traditional world music. In her free time, she enjoys
learning Irish, traveling, dancing, writing, and studying Celtic culture. She married her husband,
James Sterling, in 2017.
"Moonchild"-Lone Raven (single)
"Flight To The Hinterlands"-Lone Raven
"Get Your Kicks Compilation"-Craig & Kara Markley
"Bridges of Time"-Lone Raven (out of print)
"Once Upon A Winter Moon"-Craig & Kara Markley
"The Lone Raven"-Craig Markley
"Class Records Compilation"-Lone Raven (out of print)
"Stark Raven"-Stark Raven
"Committed"-Stark Raven
"Confessions of an Optimist"-Sirens
"She Don't Worry"-Sirens
"Sirens"-Sirens
"Leukemia Benefit Sampler"-Sirens
"Public Education Music Series"-Hal Leonard Publishing
"Celtic Melodies"-Great Moods Series, CD and DVD
"2000 Oasis World Music Sampler"-Craig Markley
"A Winter Lullaby"-Craig & Kara Markley (out of print)
"Music of the 1997 Dublin Irish Festival"-Stark Raven (out of print)
"Get Me Through December"-Craig & Kara Markley (out of print)
"Crosscurrents"-Markley/Schenk Ensemble (out of print)
"Daylight/Moonlight"-Markley/Schenk Ensemble (out of print)
"Dakar"-Craig Markley & Chris Cherry (out of print)
1966 Songbook-Craig and Kara with Molly Pauken
1968 Songbook-Markley, Ross, Tron and Friends
1969 Songbook-Markley, Ross, Tron and Friends

As a side musician
Neil Jacobs, "The Peasant Sabbitical"
The Kells, "Clear Sailing After All"
Mark Wade, "Grass Roots"
Mike Dugger, "The Lover's Quarrel" NEW RELEASE
Charlene Adzima, "The Initiation"
The Kells, "Don't Burn The Water"
Hilda Doyle "Play Attention"
Ladies of Longford "Carry Tales"
Ladies of Longford "Christmas"
Ladies of Longford "Unreel" NEW RELEASE
Neil Jacobs "Secret Places"
Beckie Boger and Sid Omasta "Ugly Duckling"
Sue Mogan-Mattison "On Irish Time"
Sue Mogan "Lookin' Up"
Jenny Morgan "Nature Needs Kids"
Bob Ford "Viking Parodies"
Debbie Walton "Let Me Rest In Your Arms"
Changeling "The Hidden World"
John Sherman "Far Green Country"
Beth Hicks "My Heart Says Goodbye"
Victoria Parks "Sure Feels Like Home"
Victoria Parks "Wild English Rose"
Coincidence Maybe "The Fall of October"
Ray Boltz "Honor and Glory"
Heartstone "Back Road to Dublin"
Kay Proffitt "Wizard's Walk"
Up River "Long Way Around"


Craig Markley
is an accomplished multi-instrumentalist, composer, arranger, and
session musician. Coming from a varied background of rock, blues, funk and jazz,
he has pursued an avid interest in Celtic and World music for the last twenty years,
and has appeared on many recordings. Though his first love was the infamous
Hammond B-3 organ, he now plays a wide variety of contemporary and ethnic
instruments, and probably owns way more than he should!
Craig's compositions have been used for several independent films and by various
major modern dance troupes throughout the U.S. Aside from performing as a duo
with his daughter, Kara, he also currently writes and performs with the popular
World/Celtic music band, Lone Raven, the Pauken/Harris based-band, Sirens, and as
a member of the touring winter-themed holiday show, "Once Upon A WInter Moon."
In addition, he and longtime friend, David Reddick, were the founding members of
the acclaimed Celtic band, Stark Raven.
Craig is also an accomplished recording engineer, and his LRM recording studio is in
constant demand by many local artists for recording their demo and CD projects.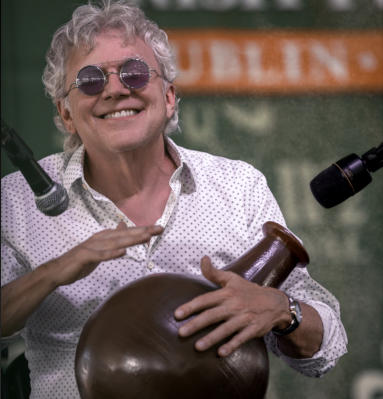 Beginning her musical career
at an early age, Kara is already an
accomplished vocalist and fiddle player. She has been singing for as long as she can
remember and playing the fiddle since she was six years old.
Throughout her life, she has studied with renowned players such as Eileen Ivers,
Natalie MacMaster, John McCusker, Deborah Colon, and Jerry Holland. She has
traveled, lived and performed in England and Ireland as well as throughout the
United States. She sings in several different languages, including Irish and Latin.
Kara made her recording debut at the age of 13 and has since appeared on over 25
different projects from various musicians. She has shared stages with notable
artists John Whelan, Karen Tweed, and Eileen Ivers.
Irish dancing is one of Kara's many hobbies, which she often showcases during Lone
Raven's live shows. She has been dancing for over ten years with Dwyer, and she
occasionally competes.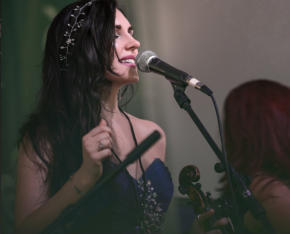 "...an impressive singer with a great pedigree and a bright future ahead."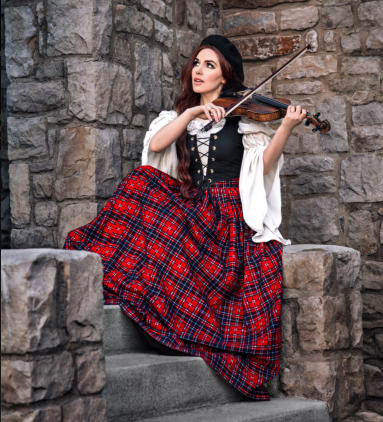 Fiddle, Vocal, Hurdy Gurdy, Whistle, Keyboards, Dance